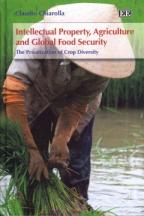 Edward Elgar has recently published a new book on Intellectual Property, Agriculture, Global Food Security and the Privatization of Crop Diversity. I hope that this book may be of interest to some of you and provide a storehouse of leaning and practical knowledge for anyone interested in agricultural innovation, environmental policy, biotechnology, access to genetic resources and benefit sharing, and the associated regulatory challenges. 
Description
'This thoughtful book raises important issues about ownership of agricultural resources, the environment and food security. Claudio Chiarolla has written an important book that challenges traditional notions of plant genetic resources and agricultural research. The author's detailed and thorough approach ensures that the book will make a valuable contribution to the debate about sustainable agricultural development and it is highly recommended to anyone interested in intellectual property rights and sustainable agriculture.'
– Duncan Matthews, Queen Mary, University of London, UK
'The instability of the global food supply system requires our urgent attention. There are no easy solutions but the starting point must entail a critical analysis of the existing institutions governing the ownership and exchange of the plant genetic resources that underpin our long-term food security. Dr Chiarolla's book makes a valuable contribution to the debate.'
– Graham Dutfield, University of Leeds, UK
'This book captures some of the key issues underlying the ever-lasting food crises both at national and global levels. It demonstrates how global policies impact national and local actions while food insecurity seems to be a constant companion to many, in spite of decades of our work on securing food as a fundamental right for the poor.'
– Balakrishna Pisupati, United Nations Environment Programme, Kenya
Further information
This well-researched book focuses on international governance of crop diversity and agricultural innovation. It highlights the implications that the future control of food, including access to agricultural resources and technologies, might have for global food security. Claudio Chiarolla analyses developmental implications of global regulatory reforms that impact on access to agricultural knowledge, science and technology for sustainable development. Current global arrangements fall short of halving the proportion of people who suffer from hunger in accordance with the Millennium Development Goals' framework. Therefore, the book proposes ways to achieve international equity in the way agricultural research is conducted, how its results are disseminated and the benefits shared. This definitive study will be a valuable resource for policymakers and practitioners, legislators, academic professionals, civil society activists and scholars in legal, environment and development studies.